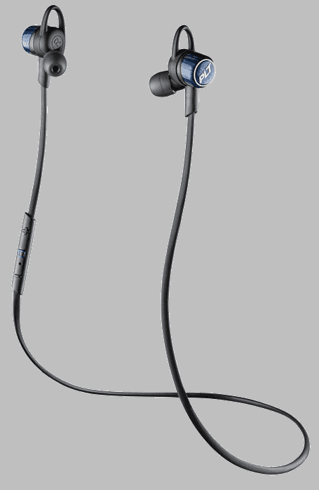 Plantronics BACKBEAT GO 3
Description
If you are looking for quality headsets which can last on long term basis, Plantronics is one reputed brand that you should look forward to. The backbeat go 3 is one of the economically priced ear buds. It is light weighted and carries amazing sound quality.
It allows you to listen to your calls and favorite playlists without any distortion problems. When a user is listening to music, he would not prefer to sit in one placed due to a corded hearing device. The backbeat Go 3 is wireless and allows you to perform key functions from your ear bud without touching your phone. The device has buttons for volume adjustment and allows users to activate virtual assistants like Siri without touching the phone.
Even when this device has so many features, it does not require the users to empty their pockets in any manner. If you are enjoying your favorite music and there is an incoming call, you can easily attend the call and get back to music without looking at your phone. When you talk about ear buds, comfort is an important concern for users. The speakers of Plantronics Backbeat Go 3 have a very comfortable grip and soft rubber padding. While listening to your favorite music, you do not have to worry about the wireless ear buds coming out.
Exceptional sound quality that makes music an exceptional experience
Easy to handle portable charging facility
The backbeat pro 3 has nano coating that protects the device from sweat
A state of the art feature for noise cancellation



A quality wireless one needs to have high quality noise cancellation features. The Plantronics backbeat Go 3 simply blocks all kind of background sounds when you are enjoying your favorite music or attending to an important call. Does this wireless device have a good standby time? It has an impressive standby time of 6 hours. This simply means that you do not have to worry about battery issues after every hour.





Some devices do not have easy options to control volume. In case of backbeat bro, the volume adjustment button is given at a convenient position on the device. The user does not have to reach to his phone to make any volume adjustments.

The user does not have to keep a track about the number of hours for which the device has been used. It has a battery indicator that tells the user about when the device has to be recharged. Users who are looking for quality noise cancellation features should surely consider this wireless ear bud.



Even when you are sitting in an extremely noisy environment, background sounds would not cause any form of distortion. This hearing device can be paired easily will most smartphone platforms including iPhone and Android. This device has an audio alarming feature. As soon as the device is turned on, the user gets to know about the left over battery standby time. It is an affordable device that most users find easy to afford.
Accessories