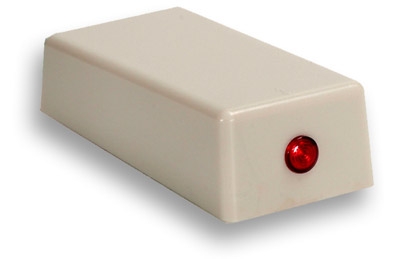 Viking Electronics LM-1A Message Waiting LED Lamp Retrofit Kit
Description
Provide Visual Lamp Indication of Message Waiting and Ringing
The message waiting lamp retrofit kit is compatible with any telephone system with standard DC message waiting voltages ranging from 90VDC to 120 VDC.
The LM-1A is fully modular for quick plug-in installation by non-telephone personnel. The unit's LED will blink at a steady rate when the message waiting voltage is detected.
The LM-1A will also flicker when the phone rings, helping to reduce noise in quiet areas by providing a convenient visual indication for ringing or message waiting.
Note: The LM-1A is not compatible with any AT&T phone system.
Applications:
Message waiting indication on analog lines supplying standard message waiting voltages
Ring indicator in offices
Features:
Attractive styling
Easy retrofit mounting
Works with nearly all message waiting voltages
One year warranty
Made in the USA
Specifications:
Input: 80V DC to 150V DC message waiting voltage, minimum 40V AC ring voltage
Viewing Distance: Up to 15m (50 feet)
Dimensions: 65mm x 35mm x 20mm (2.56' x 1.38' x .79')
Shipping Weight: 0.45 kg (1 lbs)
Environmental: 0° C to 32° C (32° F to 90° F) with 5% to 95% non-condensing humidity
Connections: (2) RJ11 plugs